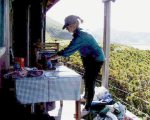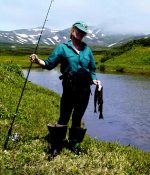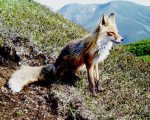 From Maureen:
We have been experiencing a run of extremely good weather this past week. Temperatures around 18°C, light wind, fog drifting in for short periods, not many bugs, luscious color. With Charlie having to fly up to Petropavlovsk to meet with some officials for a couple of days, I began the day wondering how I would spend it. The inevitable laundry seemed like a good start(it hadn't been done in 10 days - we hate wasting our time with such a chore), then on to a time with the cubs and some drawing. I spent yesterday developing some great black and white images in my small solar powered darkroom and felt excited to begin. But that isn't quite the way things transpired.
Thankfully this year, a family friend, Neil Smith, rounded up an antique wringer which helps the laundry process. An hour and 10 buckets of water later, I headed for the fishing hole. Saying I love to fish doesn't quite cover it, especially on a day like this one where I could see the schools of char 10 feet off shore, swirling and showing their dorsal fins in a tantalizing way. Four nice sized fish followed my lure in the first cast. Four casts later I had my meal with some to spare. We usually catch 1 to 2 pound fish although when the bigger run arrives we catch up to 3 pound ones. The char is like a trout but it schools up and returns to the ocean every year, returning to our creek, which is 100 yards from the cabin, about the middle of July. Last year there was about 4,000 char swirling in the bay of the lake and up into our fishing hole. They feed on fresh water shrimp this time of year and are very tasty for breakfast.
When the cubs came through camp a few hours later, I persuaded them to come with me to the big pan of mud north of camp. To my delight they fanned out across the mud-flat and printed their paws perfectly for me to cast in plaster. Finally after 6 weeks I had a wealth of prints which I could identify with their owners.
I suddenly noticed Chico looking intently under a pine bush. Our friendly fox who we have been calling Timmy, was crouched there. As usual "he" ran off with Chico on his heels - a game that had begun last year. Quickly giving up the chase, the cubs and I ambled up onto a nearby snow bank. A blur caught my attention out of the corner of my eye. Was this another den site? I left with the cubs and returned later. Well, Timmy has a new name: I think Tammy will do. She has 4 pups! I sat and watched her bring them a very assorted menu over the next 4 hours. This mother fox knows us quite well. I think this must be the fox Charlie made friends with last fall when he was here alone. I was quite jealous about this story, recalling the first year in 1996, when I hadn't even caught a glimpse of a fox. The first item on the menu was two ptarmigan which was pretty amazing as she is small. 4 pups rushed out squabbling about who would have this feast. The bigger one picked up the prize and tore off across the meadow, while the other three ran to eat what was left in the alder. I thought they had run because of my presence on the bank opposite. Had I brushed my pack to make that swooshing sound? A stellar sea eagle had circled overhead and the cubs had run for cover. The mother fox sat outside her den for about an hour after that before and she was off again, this time returning with some type of small furry beast, much bigger than a vole. No wonder the pups were so chubby. The foxes here den in dense alder under the roots. I have not seen their den up close as I have never wanted to disturb it.
Upon returning to the mud flat to examine all the prints made earlier in the day, I couldn't believe my eyes. The big "Daddy" of prints were in the mud. The bear must have passed through while I was with the foxes not more that 100 yards beyond. I will head out now to collect the plaster casts I made last night. I had difficulty selecting which beautifully sculpted print to cast. The mud had been perfect.